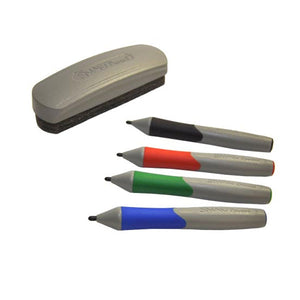 SMART Board 500/600 Series Replacement Pen Set and Eraser 1026854
500/600 Series Replacement Pens - Set of Four (Black, Red, Blue, Green) and Replacement Eraser SMA-1026854
Also known as SMA-RPEN-ER (not SMA-RPEN-ER-SBX8)
Works But…
The markers and erasers work with my SmartBoard at work BUT they must be a different version because they don't stick to the board like the others did and the board doesn't pick up the different colors, I have to change those manually. But that isn't a dealbreaker and they work to write and erase in the board.
SMART Replacement Pen Set with Eraser
SmartBoard pens and eraser
I received these parts rapidly and new.
Awesome service!
Thank you very much!
Exactly as it was described. Fast delivery.